About VAPA and Dean John Graulty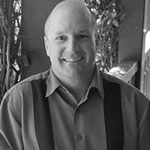 Division Dean John Graulty welcomes students, faculty and the community to the Dean's Dish Blog, which is packed full of VAPA—Visual, Applied and Performing Arts— Division news and important information.
The Visual, Applied and Performing Arts division of Cabrillo College has an outstanding program in all arts with acclaimed faculty. AA degrees are offered in music, theatre, dance, 2-d and 3-d art, art history, digital media and photography. Please visit the division homepage for more information.
John is passionate about the key role the arts play in improving the human condition and stimulating creative and critical thought. As a member of the International Council of Fine Arts Deans and Chair of the College Music Society's Academic Citizenship Committee and member of its Committee on Administration and Academic Leadership, John presents at national conferences on topics including entrepreneurial arts advocacy and engagement, interdisciplinary collaboration, and strategic planning. As a former US Air Force conductor who has worked in mediums ranging from jazz to opera, John has conducted at the Leipzig Gewandhaus, Royal Albert Hall in London, and the Red Army Theater in Moscow. He also conducted President Bill Clinton in his brief guest appearance with the USAF Band in Europe. He has conducted the Wroclaw Philharmonic, the Harlem Festival Orchestra, and on Latvian National Radio. His clarinet performances have been heard on NPR and PBS, in Spoleto, Italy, at the 1984 International Clarinet Competition in London, at "ClarinetFest 2001" in New Orleans, and with the Indianapolis Chamber Orchestra, Opera, and Ballet Internationale. He has taught master classes in clarinet and conducting at the Latvian Music Academy, for the Ministry of Education in Singapore, and at the Tanglewood Institute's "Clarinet Workshop 2005." His most recent article on avoiding podium-centered rehearsals was published in the Music Educators Journal (June 2010). He has hosted several international "Clarinet Summits" featuring his teacher Kalmen Opperman and Emmy and Grammy Award-winning clarinet virtuoso Richard Stoltzman. He is married to Susan Ellman Graulty, a flutist and teacher from Naperville, Illinois, and they have four daughters: Valerie, Stephanie, Natalie, and Michelle. Past appointments include Dean of Fine Arts, Humanities, and Social Sciences at Merced College (CA), Music Department Chair at Delaware State University and Goshen College (IN), and faculty posts at Butler University and the University of Indianapolis.