Greetings faculty, staff, and friends of the Division of Visual, Applied, and Performing Arts at Cabrillo College!
…and the great art keeps pouring out of VAPA into Santa Cruz County! Last night, the community, young and old, enjoyed the second annual VAPA Open House, from 5-9pm. Art in every imaginable medium was on display and in the air. Visitors had a chance to see art being made and even make some art themselves!

After the Open House, it was off to downtown to see the Cabrillo Symphonic Choir perform with the Santa Cruz County Symphony. What a treat it was to be part of the capacity crowd at the Civic Auditorium who leaped to their feet following the choir's performance of the sublime Mozart Requiem! (That performance repeats at the Mello Center in Watsonville today at 2!)
This afternoon, from 2-4pm, several VAPA faculty artists, past and present, will be unveiled (no PUN intended) at the second opening of "UnDressed" at the Pajaro Valley Arts Council Gallery in Watsonville. UnDressed: An Exposé of Conceptual Garments and Accessories explores the realm of apparel beyond the conventional limitations of fabric, needle and thread. The exhibition is being held in each of two venues, Pajaro Valley Arts Council Gallery (PVAC) and the Santa Cruz Institute of Contemporary Art (SCICA), spanning north and south Santa Cruz County. Expect the unexpected in this exhibit of curious, intriguing, narrative garments and accessories that utilize traditional methods, as well as experimentation with unusual materials, tools and techniques to create surprising, witty and thought provoking conceptual pieces and installations.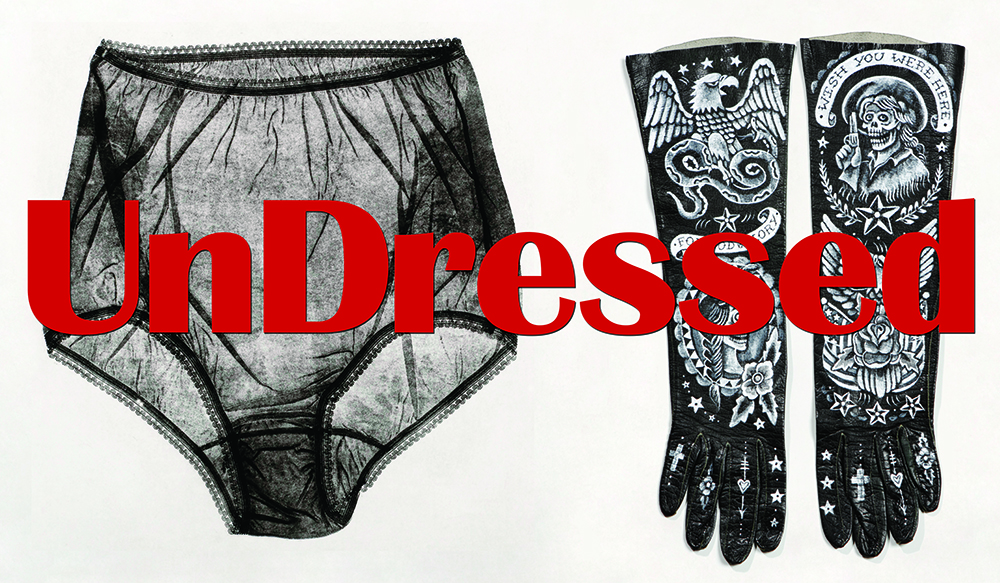 For more information on a whole host of upcoming VAPA events, including the ongoing student art exhibit in the Cabrillo Gallery through May 16, read on, or click on "events" at www.cabrillovapa.com.
Cheers!
John Graulty, Dean of VAPA
VAPA student arts entrepreneurs pitch their ideas this Monday night, May 19!
Come see VAPA student arts entrepreneurs pitch their arts enterprises this Monday night, May 19, from 6:30-8pm, in VAPA 1001. VAPA students from Ray Kaupp's grant-funded SP 14 arts entrepreneurship class will roll out their entrepreneurial projects to a host of area arts entrepreneurs!Open to the public! Light refreshments will be served!
VAPA Student Success Stories…just a few of many
Nathan Kennedy, a student in  Denise Gallant's Digital Media 134A and B classes, went to Berkeley Film School for two years, and spent this last year working on a film project for MIT.
Michael Rabinovitch, another student in DM 134A and B classes last term, spent last summer working on a video featuring legendary Cabrillo art faculty member Holt Murray which was shown at the Cabrillo Gallery this last January and then in VAPA 1001 to a standing room only audience.  He is presently at UCSC Film School.
Art 7B student, Michael McNaught, was accepted to UC Berkeley.  He'll be majoring in English.  In addition to his Art 7B studies, Michael has also been working on a special studies project involving screen printing on wheel thrown pottery – the results of his explorations are stunning!
Music Technology and Recording Arts (MTRA) student Gordon Landon Black has served an internship at Kuumbwa this Spring and now has just been hired by Cabrillo Stage to run this summer's production of Oliver. MTRA student Sal Alamillo interviewed and was hired recently as a paid summer intern at Universal Audio in Santa Cruz. Anna Olsen, MTRA student and sound tech at Santa Cruz Bible Church, has been accepted to attend Expressions Center for the Digital Arts next Fall.
Several other VAPA students are transferring to schools up and down California, including UCLA, Berkeley, San Jose State, UCSC, and more!
Santa Cruz County Office of Education newsletter article features VAPA Professional Development Workshops for County Arts Teachers on April 23:
http://www.santacruz.k12.ca.us/ed_services/cabrillo_VAPA_specialists2014.html
Don't miss these upcoming VAPA events…
Westside Community Folk Song/Gospel Choir

Monday, May 19
8:00 pm
Cabrillo Samper Recital Hall
> more details

Theatre Arts Department Actors' Showcase

Monday, May 19
7:00 pm
Cabrillo Crocker Theater
> more details

Cabrillo Music Department presents
Music of Finland

Wednesday, May 21
7:30 pm
Cabrillo Samper Recital Hall
> more details

Cabrillo Classical Guitar Ensemble

Thursday, May 22
7:00 pm
Cabrillo Samper Recital Hall
> more details

Business of Art Seminars

Leveraging Social Media for your Art
Friday, May 30
2:00 pm
VAPA Room 1001
> more details

Cabrillo Youth Chorus Spring Concert

Sunday, June 1
2:00 pm
Cabrillo Samper Recital Hall
> more details

Cabrillo Stage 2014 Summer Season presents
Altar Boyz

June 27 – July 13
Cabrillo Crocker Theater
> more details

Cabrillo Stage 2014 Summer Season presents
Stephen Sondheim's
Putting It Together

July 11 – 20
Cabrillo Samper Recital Hall
> more details

Cabrillo Stage 2014 Summer Season presents
Oliver!

July 25 – August 17
Cabrillo Crocker Theater
> more details