Greetings faculty, staff, and friends of the Division of Visual, Applied, and Performing Arts at Cabrillo College!
As I compose this latest edition of Dean's Dish this evening,  great VAPA performances are going on up and down the central coast, from the music of Henry Purcell at the Carmel Mission Basilica (program repeats tomorrow at 7pm in the Samper Recital Hall), to Argentinian tango music in the Samper Recital Hall, to Shakespeare in the Black Box Theater, and vocal jazz in the Crocker Theater!   Last night, I had the distinct pleasure of taking in the Theatre Department's production of As You Like It in the Black Box Theater. It is often said that Shakespeare may as well be in a foreign language, with Elizabethan era English constructs that can be difficult to convey, but the performance last night was delivered with the clarity, mirth, and maturity of a fine professional theater company. Bravo to Director Sarah Albertson and the entire student company! If you haven't seen this production yet, you have one more chance tomorrow at 2pm.
Tomorrow at 3pm in the Crocker Theatre, I'm looking forward to stepping out from behind my dean's desk and stepping onto the podium once again to guest conduct Gustav Holst's First Suite in E-Flat with the Cabrillo Symphonic Winds. The program also feature student conductor Nick Marinovich and the premiere of Heather J Morris'  composition: Memoirs: A Journey through my Musical and Not So Musical Family. Morris, a fifth generation music teacher from England and clarinetist in the Cabrillo Symphonic Winds, presents musical portraits of several of her ancestors in this nine minute piece.  Principal hornist Rob Zvalko will also perform Richard Strauss' demanding Horn Concerto # 1 in E-flat.
For more information on a whole host of upcoming VAPA events, including the ongoing student art exhibit in the Cabrillo Gallery through May 16, read on, or click on "events" at www.cabrillovapa.com.
Cheers!
John Graulty, Dean of VAPA
Cabrillo's VAPA Division Faculty Host K-­12 Arts Specialists for Professional Development Workshops
The VAPA Division at Cabrillo College, in collaboration with the Santa Cruz County Office of Education, once again welcomed over 30 arts teachers from throughout the county for an exciting afternoon of professional development on April 23. Cabrillo instructors were more than generous in offering various specialist workshops in visual arts, music, theater, and art history to the visiting teachers.

Dean of VAPA welcomes the K-­12 arts specialists on April 23rd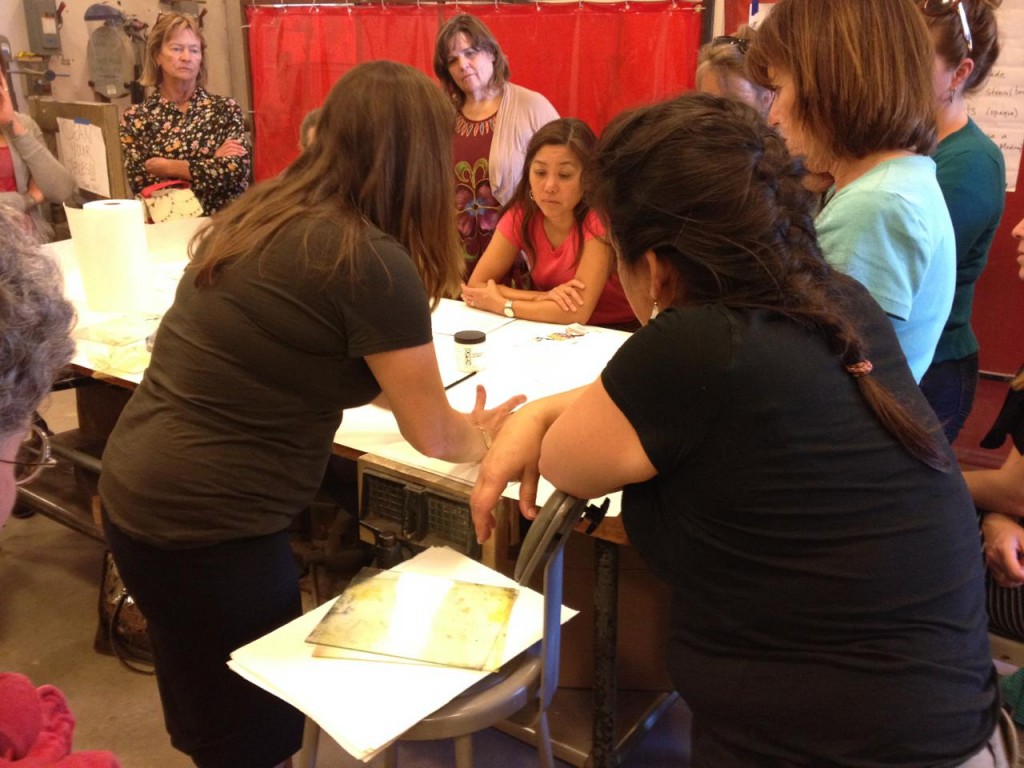 Cabrillo's Andrea Borsuk demonstrates a monoprint technique to several art teachers from throughout the county
Art teachers from PVUSD and SCCSD learn how to make a copper bracelet
Brian Legakis, Chair of Art History, demonstrated a college lesson and led a lively discussion on the state of Art History in the county.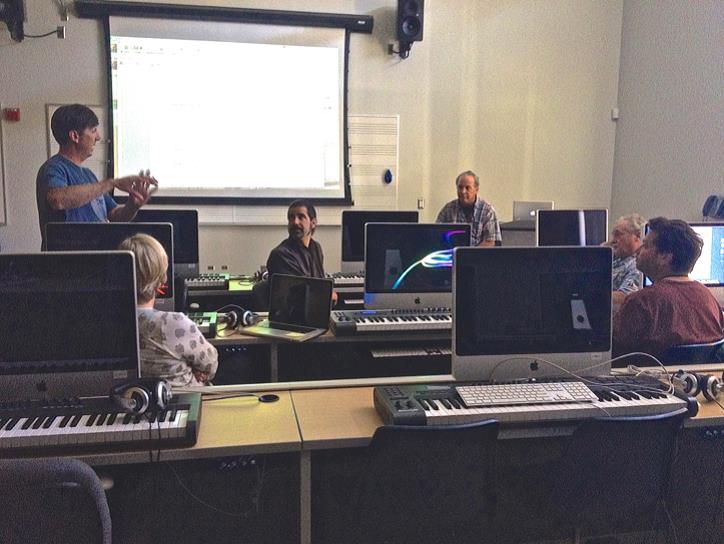 James Durland and one of his top students lead a music seminar.
Cabrillo's Skip Epperson shows Will Guildford (San Lorenzo Valley Theater teacher) the 'backstage' view of As You Like It
The afternoon was a huge success and a very important step in the articulation between public school teachers and Cabrillo College. A big thank you to all Cabrillo instructors who were so welcoming and willing to share their expertise, and especially to Mary McLaughlin, COE Arts Coordinator, who has worked tirelessly with Dean John Graulty to enhance ties between arts teachers in the county and Cabrillo College.
Check out the largest variety of summer arts offerings ever offered through Cabrillo's Extension Division…
Click here for more info: http://www.cabrillo.edu/services/extension/
Upcoming VAPA Events
Cantiamo! with Ensemble Monterey Chamber Orchestra

Sunday, May 4
7:00 pm
Samper Recital Hall, Cabrillo College
> more details

Cabrillo Youth Strings/Chamber Ensemble Concert

Sunday, May 4
3:00 pm
Vapa Room 5146
> more details

Spring Festival of Bands
Featuring the Cabrillo Symphonic Winds

Sunday, May 4
3:00 pm
Cabrillo Crocker Theater
> more details

Cabrillo Chamber Ensembles and Strings Recital

Friday, May 9
7:30 pm
Samper Recital Hall
> more details

Cabrillo Spring Dance Concert

Friday to Sunday, May 9 – 11
Friday & Saturday at 7:30 PM, matinee Sunday at 2:00 PM
Cabrillo Crocker Theater
> more details

Cabrillo Chorale presents
Handel's Messiah

Saturday, May 10
7:00 pm
Samper Recital Hall
> more details

Cabrillo Theatre Arts Students present
African Culture Around The World

Saturday, May 10
7:30 pm
Cabrillo Black Box Theater
> more details

Cabrillo Women's Chorus
Songs of Spring

Sunday, May 11
3:00 pm
Cabrillo Samper Recital Hall
> more details